Lifeline Staff
Lifeline Pregnancy Care Center has been serving the greater Nampa for over 35 years.

Kim Yadon
No Regrets Director
I am passionate for young people of all ages. My drive to change lives towards hope and peace was instilled in me as a young girl. My passion for wholeness has been my ministry for over 13 year. I am a pastor's wife who leads women to find their purpose. Lifeline has offered me a great opportunity for ministry. No Regrets is an ministry partner of Lifeline, always steering young people to make healthy whole decisions with their bodies.

Kirsten Boone
No Regrets Presenter
Hi there,  I have been working with Lifeline for just under a year. I proudly serve as a presenter with the No Regrets program where we teach students about sexual risk avoidance. I love pouring into younger generations and have the privilege of doing so here at Lifeline, as well as by serving with my husband on our church's youth leadership team. It is an honor to be a part of Lifeline!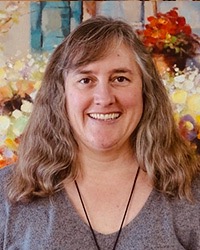 Tracy Burnett
Bookkeeper
Before I became a stay-at-home, homeschooling mom of two wonderful children I worked at some banks and for an accountant. I learned that I thoroughly enjoy the detail-oriented art of bookkeeping. Now that my children are older, I've been able to take on some part time work and was given the opportunity to use my gifts at Lifeline. I've worked for various companies over the years, but this is the first time for a place that has such a positive and life-saving impact in the community. I love being able to support the work at Lifeline! When I have a few free moments, I enjoy crocheting and watching cooking shows with my hard-working husband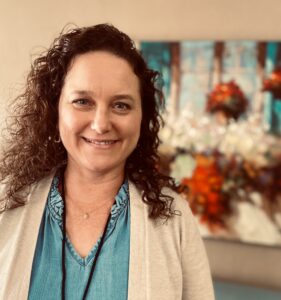 Valerie Silva
Events Coordinator
Hello, Valerie here! I've been married to my husband, Kevin, for 25 years, am a mom of 3 sons, and homeschooling mama to my youngest who is in Classical Conversations. Getting outside in nature and spending time with my family are my favorite things to do!
Serving others has always been a passion of mine. With over 7 year's experience in life-affirming pregnancy work and 20 + years in banquet management I come to Lifeline as the new Events Coordinator.
With your support in this centers' fun, inspiring and life-changing events, YOU can make it possible for the staff and volunteers to continue to be the hands and feet of Jesus to all who are in need.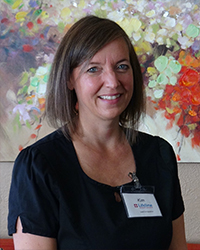 Kim Echelmeier
Sonographer, RMDS
I've been an ultrasonographer of over 20 years and I started working at lifeline 9 years ago! It is such a rewarding team to be a part of. We have the opportunity to speak truth out of love and lead these girls to Christ. What a privilege it is to work for God. I have 3 children. Emma 18, Drew 15 and Luke 10. My husband Steve is a pastor for the 7 th Day Adventist Church. Lifeline is an important ministry in our community and I'm proud to be apart of it!  I'm excited to see what God has in store for us next.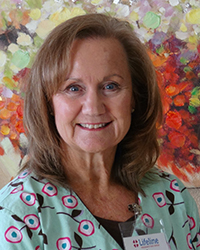 Sharon Bartlow
Nurse Manager, RN
Upon completion of my RN degree I entered the Air Force, working in multiple disciplines including flight nursing and clinic work, but I most enjoyed the areas of pediatrics and labor and delivery. After 13 years of military related nursing I decided it was time to devote full-time effort upon the precious lives of our own children. As time allowed I worked a direct sales career, was a substitute teacher, including French and enjoyed some travel opportunities and multiple Bible studies. Our children are now grown and I am now grandma of two precious little ones. A few years ago I began volunteering with Lifeline.   After some time I was approached to join the LLPC staff as a nurse manager and I perceived God's leading to get my nursing license reinstated.  It was a lengthy and difficult process, but, with God all things are possible. Continuing to trust the Holy Spirit to empower and influence, whether in client discussions, during ultrasound appointments or other client encounters I look forward to serving the Lord in this role.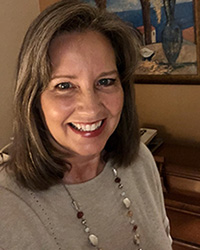 Robin Watters
Executive Director, RN
Hello! I am honored to be the Executive Director at Lifeline. I wish I could sit down with you and tell you all the many stories that are in my heart from the last 20 plus years of volunteering and working at this yellow house on 12th Avenue.
There is much work to be done and we are SO blessed to live in such a generous and loving community. We have weekly phone calls from women requesting abortion services. Often, they will come in for a free ultrasound and make a life changing decision. Often, we are able to share Christ, and someone will come to know Jesus. Your prayers, volunteer work and donations make a DIFFERENCE. If we all give some, we can see BIG change.
The NESTING PLACE Maternity Home is our most recent ministry project. This home will make deep and lasting changes in the lives of babies, mothers, fathers and their immediate families. Join in this quiet and yet SO urgent cause. You won't regret it!